Writers Workshop over at Mama's Losing it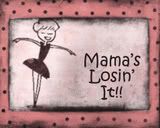 Directions:For you newbies it's never to late to jump in!! Here is what you must do. Choose a prompt that inspires you most. Write. Come back Thursday and paste your blog URL into the Mister Linky that will be up...this way anyone can click on your name and head over to your place to see what you wrote.Feel free to write on more than one prompt if you so desire. I do it all the time, but it's my game...and I don't know how to shut-up...so it should be expected. And remember the more comment love you give, the more comment love you get so comment comment away.


The Prompts:


1.) Tell us about a lie you told that you later regretted.
2.) Choose a task you'd like someone to complete and write a poem asking them to do it.
3.) Describe a talent you have.
4.) Write a list of ten things on your mind this week.




I laid in bed and cried myself to sleep last night

I felt I had lost something, a part of you, a part of me, it wasn't right

You are breaking my heart one tiny piece at a time

All I want is for your life to be great but it is something only you can define

I want you to know the real person inside, the real You

Find what is in your heart and listen because it will be true

Love yourself, like yourself, find what is real and then give

Only then can you begin to really grow and flourish and live

Don't look to others to complete you, define you or make you whole

Look within, that is where the answers are, do not let life take its tole





Forgive me people. I don't know how it happened but my entire post became a link to Mama's site. Blogger is just too weird sometimes.